Stel je voor dat we allemaal -jong, oud, arm en rijk-
gratis toegang zouden hebben tot de meest geschikte
mentoren op uitdagende momenten in ons leven.
Dat is onze missie.
iSeekMe is een onafhankelijk, open online talent agency
iSeekMe houdt zich al sinds 2018 bezig met het versnellen van persoonlijke ontwikkeling van mensen. De snelste en slimste manier om dit te doen is door ervaringen te delen. Wij geloven én hebben bewezen dat mentorschap hier een belangrijke rol in speelt.
Wij vinden het gek dat coaches en mentoren maar voor een beperkte groep mensen toegankelijk is. Er moet ook vaak eerst een 'probleem' zijn om toegang te krijgen tot mensen die je de juiste vragen stellen en jou inspireren. Het is onze missie dat wij allemaal – jong, oud, arm en rijk – toegang hebben tot de meest geschikte mentoren op uitdagende momenten in ons leven.
Ook vinden we het een gemiste kans dat de kracht van social media onvoldoende benut wordt. Hoe mooi zou het zijn als we mensen dagelijks 7 minuten met elkaar te laten reflecteren over hun sociaal-emotionele ontwikkeling.
Het probleem
De wereld staat voor grote uitdagingen en steeds meer mensen zijn op zoek naar manieren om een bijdrage te kunnen leveren aan een duurzamer en gelijkwaardige manier van leven. Het vinden en leven van jouw purpose/ambitie is hierbij een cruciale eerste stap.
Onderzoek toont aan dat een connectie met iets groters dan onszelf ons gelukkiger en gezonder maakt. Het leveren van een wezenlijke bijdrage aan het grotere geheel is één van de belangrijkste condities voor een zinvol leven. Dat we daar als samenleving te weinig aandacht voor hebben wordt pijnlijk duidelijk als we zien dat één op de vijf jongeren 'psychisch ongezond' is (cijfers CBS). En dat is een groot probleem, want hoe kunnen wij van die jongeren (gen Z) verwachten dat ze de wereldwijde uitdagingen aangaan als ze zelf worstelen met hun mentale gezondheid?
Zoveel energie, talent en geld gaat verloren doordat we dit niet de allerhoogste prioriteit geven!
toenemende mismatch op de krappe arbeidsmarkt:
verkeerde studiekeuzes;
psychische aandoeningen. Burn-out, bore-out, fear of missing out;
het aantal mensen dat binnen een half jaar een nieuwe baan verlaat;
jongeren met een identiteitscrisis;
jongeren met keuzestress
We kunnen nog wel even doorgaan en jij kent vanuit jouw perspectief weer andere voorbeelden. Met onze huidige mindset blijft dit probleem bestaan. En zolang sociaal-emotionele ontwikkeling als sleutel tot de oplossing niet voor iedereen toegankelijk is zal dit zo blijven.
Waarom is persoonlijke ontwikkeling niet voor iedereen toegankelijk?
Vanwege de kosten van opleiding, begeleiding of coaching
Vanwege onbekendheid met sociaal-emotionele ontwikkeling of het imagoprobleem.
Binnen bestaande systemen krijgt sociaal-emotionele ontwikkeling onvoldoende prioriteit
Support our mission
We are looking for partners to help us realize our mission.
Our mission is to make social-emotional development available and affordable for everyone. So that everybody can learn to connect and create on a deeper level. Are you wondering how this mission came about? Keep scrolling. (Tip. start at the source in 1973)
Great insights
The first responses are motivating. We received great insights thanks to the first users. Investing in IT costs a lot of money. There is so much that goes into it: apart from the technology, you also have to understand the psychology of humans. And protect privacy. Because if we're certain about anything, it's that privacy is at the top of our priorities.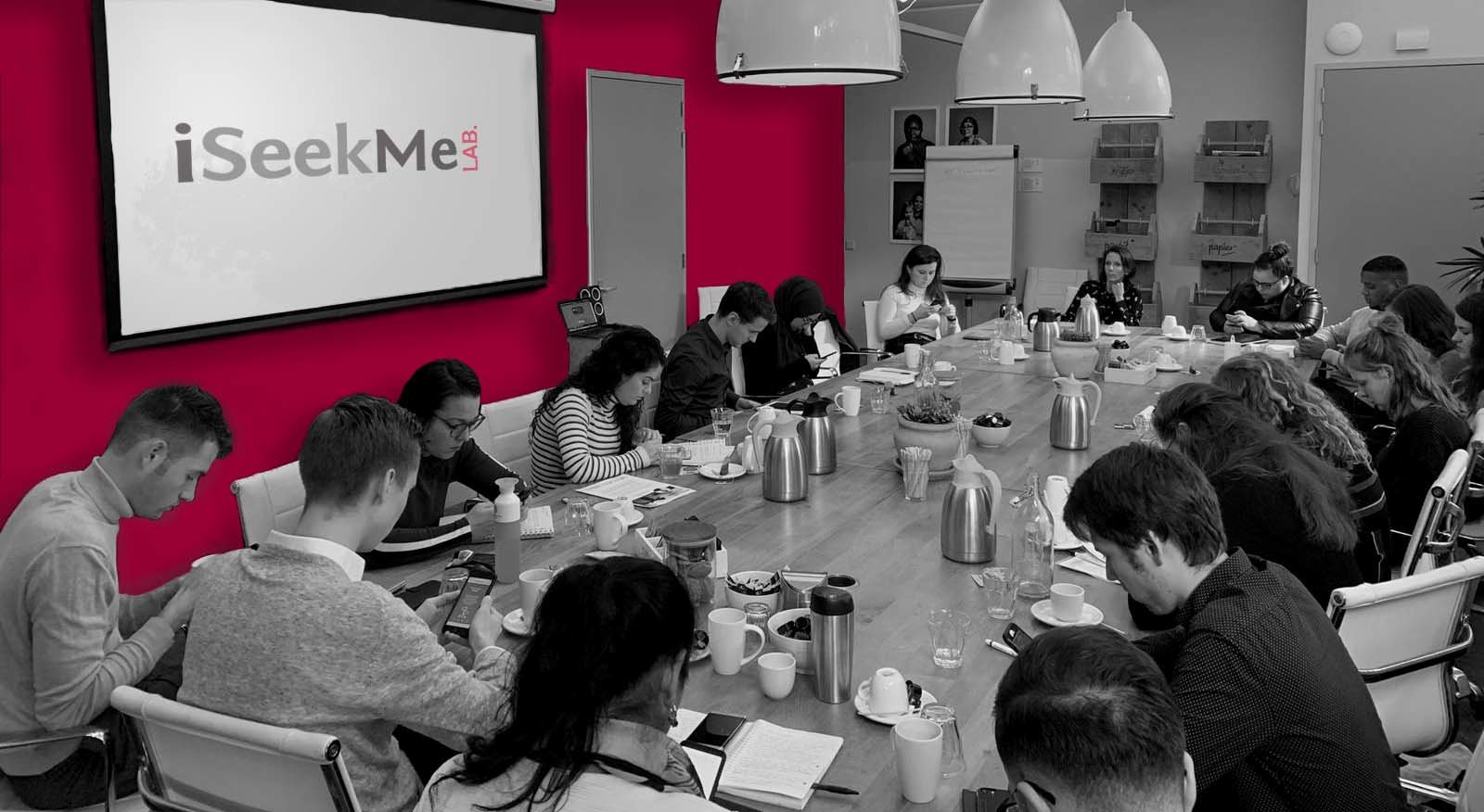 Launching customer
We are really proud to have the Municipality of The Hague as a launching customer. Through the trainee program, the Municipality of The Hague has been helping us for several years with testing iSeekMe and the CHI-ambition online and offline in different versions.
The first version
Together we build, with blood, sweat, and tears, the first and second version of iSeekMe.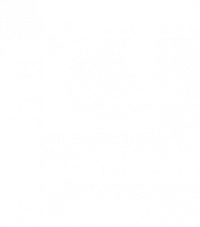 To measure is to know
Together with Leiden University, Faculty of Applied Psychology, we are developing a method to measure the social-emotional development of a big group of people. The essence is a CHI (Concrete, Feasible (Haalbaar in Dutch) and Inspiring) formulated ambition.
You can't do it alone
Giving up this dream was never an option. After that was a search for a passionate IT partner. After all, the lesson was to not judge something you don't know anything about. Steven sells a part of his company to Mark and Rob from Polder Knowledge. They will be his IT partner.
First try
In 2014, after years of searching, Steven finds his first client to start with iSeekMe. Unfortunately, this attempt ends in failure. In hindsight, this project was way too big. Steven isn't a programmer and makes mistakes in setting up the IT-centered project. Because of a switch in management on the client's end, the project was canceled. This almost cost iSeekMe its life.
Helping many people
If you want to include a lot of people, IT offers a solution. And, miraculously, iSeekMe as a domain name is available! Have you ever tried to find an available domain name? Wow, that's insanely difficult. Even in 2014. This felt like a sign that this was the right way to go.
A little check: do you make the connection with ICQ? Then I know how old you are! 🙂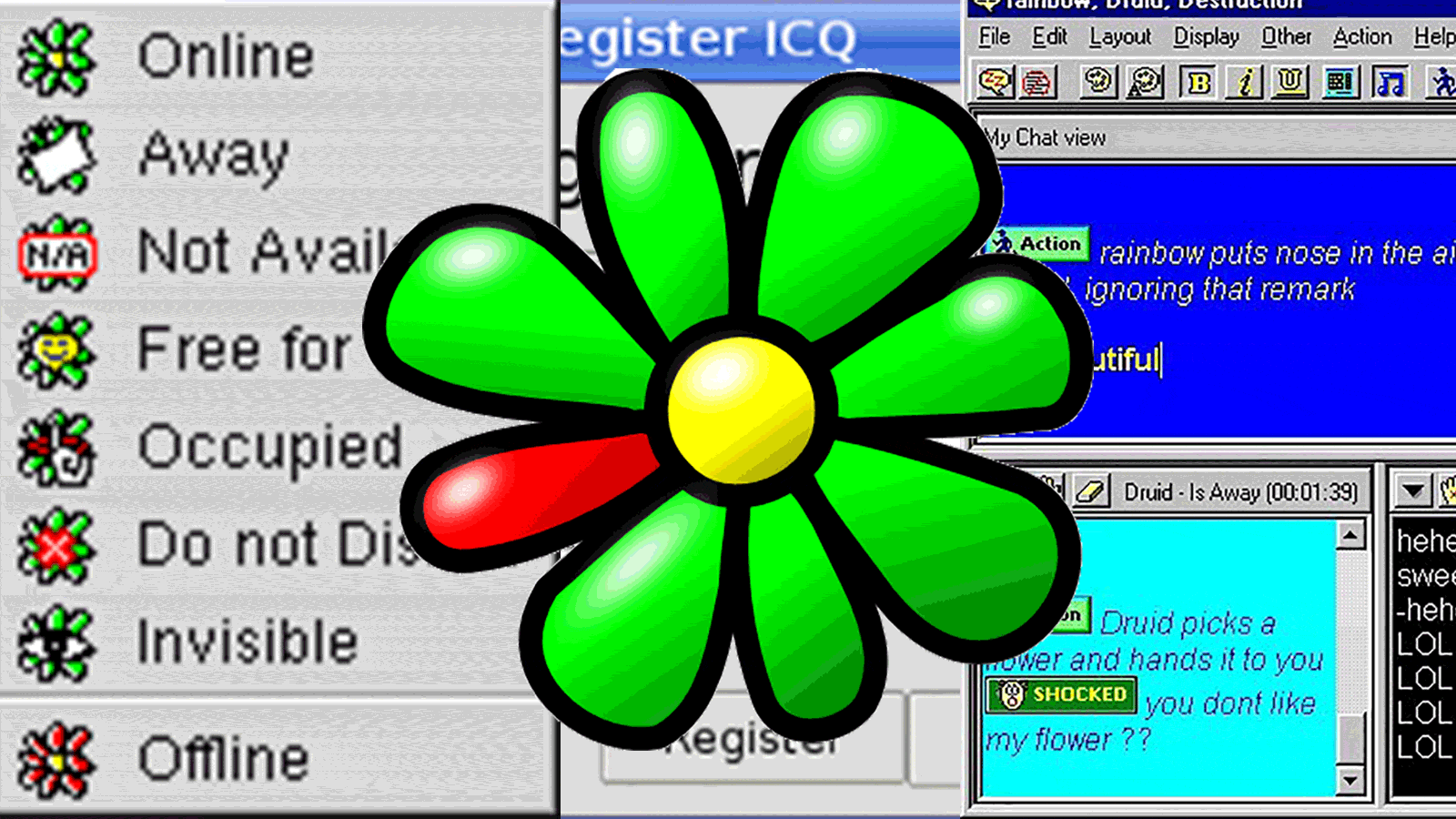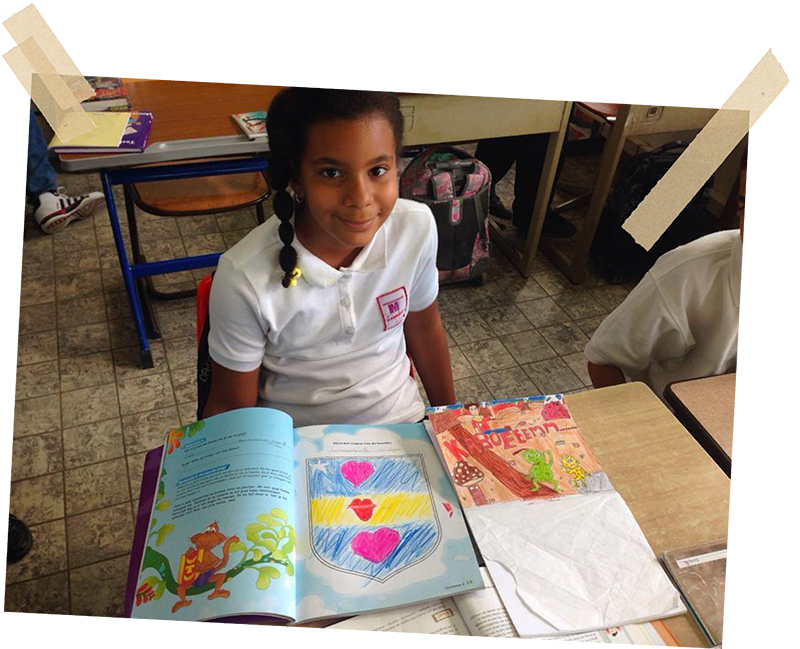 1000+ kids
In 2012 and 2014 there was a pilot project with over 1000 kids on Steven's birth island, Curaçao. The insights and experiences were so valuable that he wanted to do this on a bigger scale. However, making a book is expensive and hard to scale up. So it's not a good solution to offer people a chance to start their own search.
Insecurity
How do you handle something so big? These were times of doubt and insecurity. When in doubt don't do it, but use the science. 😉 Alright, alright, with almost €100,000 in subsidies Steven completes a study between 2008 and 2011 in collaboration with TNO and the University of Utrecht, focused on the question: 'How can a system play into the individual need for learning a user has to accelerate their social-emotional development?'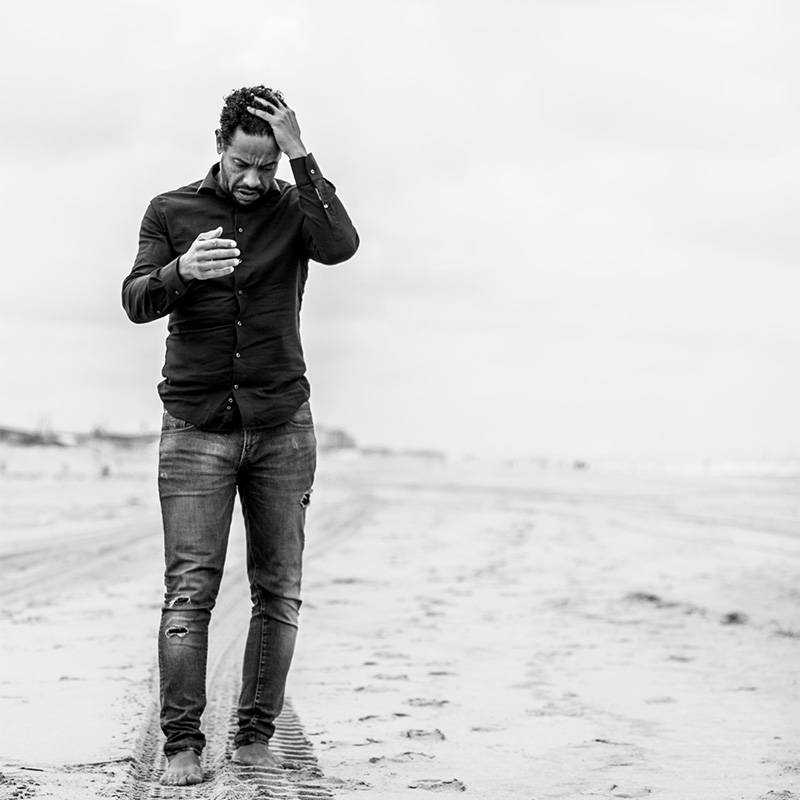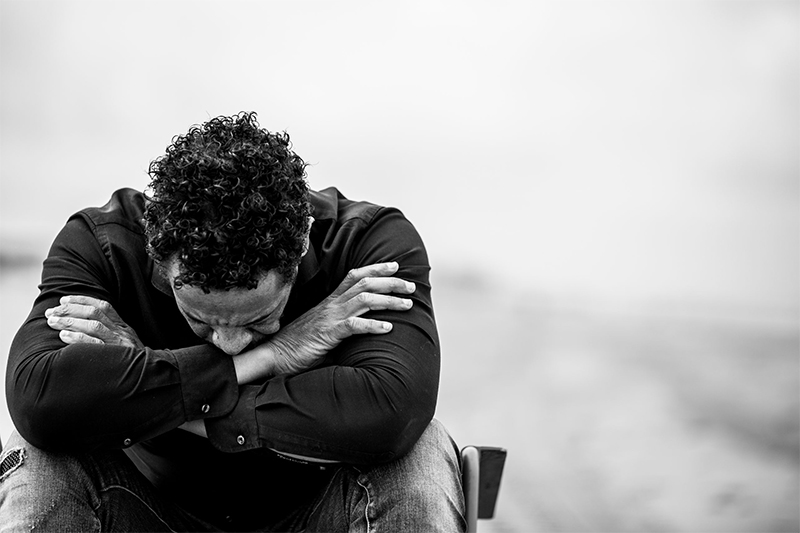 The mission
All these experiences, including challenges within your relationships, strengthen the feeling of unrest in a life-changing moment. Who am I? Where do I belong? Steven considers himself lucky to be able to meet great people who help him in his search. But not everyone has this much luck. That's why we want to make social-emotional development available to everyone.
Greeeatest insight
With the concept 'Shoulderpat.now' in mind, Steven talks to many people about what they think is truly important, what they dream of, and what their greatest moments were. What was the common thread of the thousands of shoulder pats he gave? We start flourishing and growing thanks to genuine, personal attention and appreciation!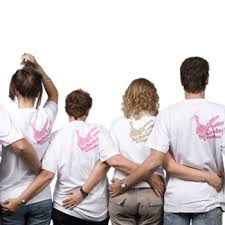 Pitstop
How are you feeling right now, about halfway through iSeekMe's 'wordingproces'? If you would like to share that with me, let's talk.
A weird career choice
After a successful career in the telecom industry, where fast lease cars and an abundance of money were the expectation, Steven made the forced decision to switch careers when the job market crashed in 2002. He became operational manager of industry and MT member at a social workplace.
Social workplace?! Friends and acquaintances laughed at Steven and made stupid jokes. So initially he was embarrassed about his work. But, it would turn out to be one of the best decisions of his life. He learned to look at people in a different way: from a means to an end to humans.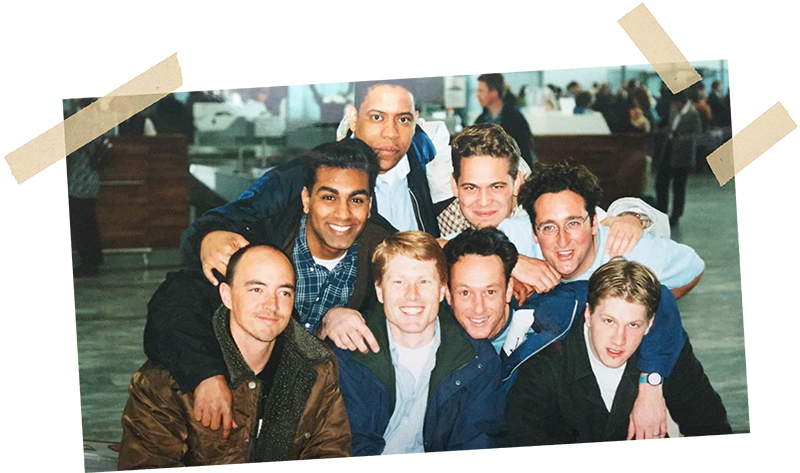 Privileged once again
After finishing his studies, Steven became a trainee at a big telecom company. Once again he receives many investments in his development. He quickly discovers that the amount of money and energy he put into his development is above average. Not everybody is this lucky.
To have a broad perspective
As a young adult, Steven wanted to study physiotherapy in the Netherlands but wasn't picked. His escape option, technical business, was the right choice by pure happenstance. After this broad study (with which you know a little about everything, but not really do anything) Steven continued his search. What am I good at? Who do I want to help? And in what kind of company?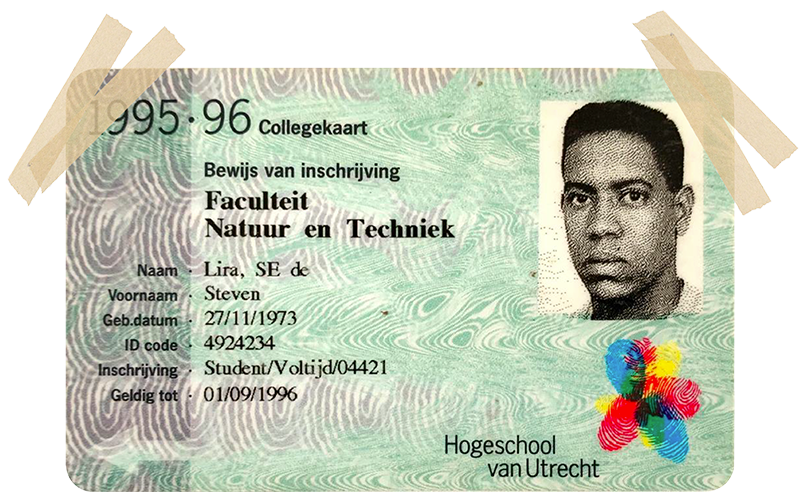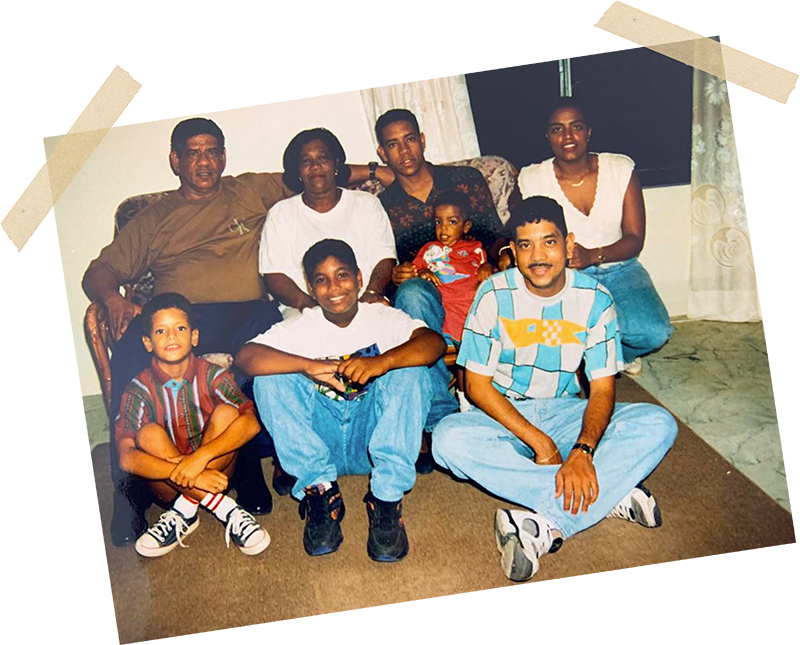 A safe home
Steven is a true mixing pot of Portuguese and African influences, social classes, and education. He never truly felt 'at home' somewhere, except for at home. Home gave the safety to explore outside. Here you see the last picture taken from his home on Curaçao before he left to study in the Netherlands.
Privileged
A very athletic youth. Because of his strong physique Steven belongs to Curaçao's national team for both judo and swimming. Because of that he has had access to mental coaching and learned to set goals for himself from a young age.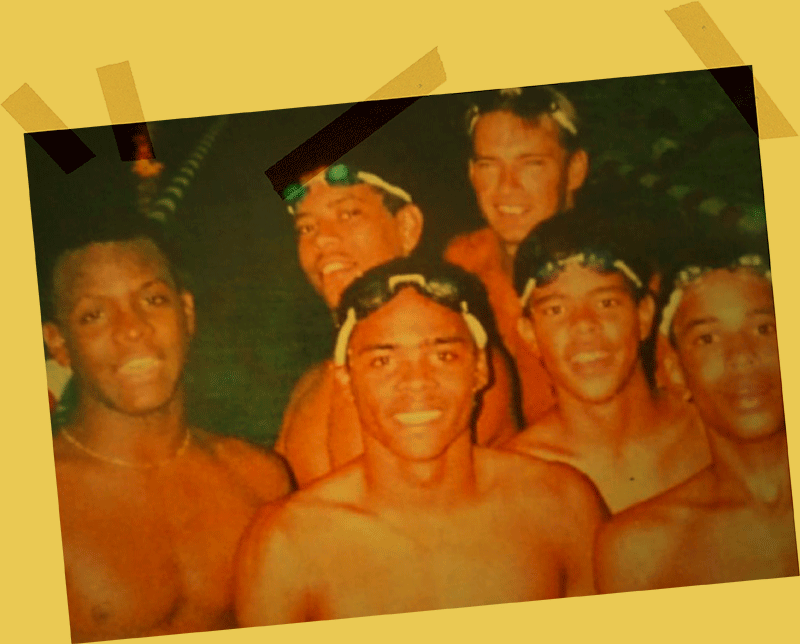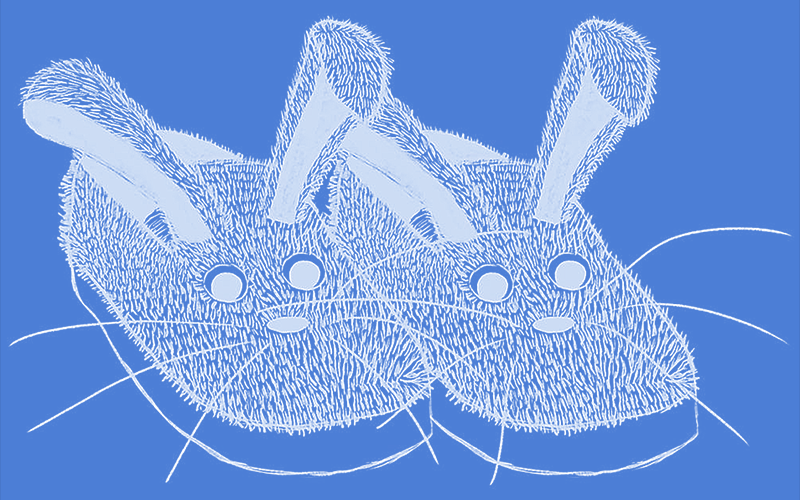 The source
Steven, a boy that felt he was different. Made and wore bunny slippers in his youth on tropical Curaçao. Where it was most important to most teens to fit in, it was more to Steven to be original.
What is your primary form of intelligence?